What is the NFPA 70E Standard?
April 26, 2023
249 Views
Gloves8
NFPA 70E is a standard of the National Fire Protection Association (NFPA) that addresses electrical safety requirements for employees in the workplace and details how to protect workers from the heat of electric arc exposures. The purpose of the standard is to provide a practical safe working area for employees relative to the hazards arising from the use of electricity. Specifically, the standard addresses safety of workers whose job responsibilities entail interaction with electrical equipment and systems with potential exposure to energized electrical equipment and circuit parts.
This standard addresses the safeguarding of employees from the hazards associated with electrical energy during activities such as the installation, inspection, operation, maintenance, and demolition of electric conductors, electric equipment and assists in complying with OSHA 1910 Subpart S and OSHA 1926 Subpart K.
It is important to note that NFPA 70E is a voluntary national consensus safety standard published by NFPA primarily to assist OSHA in preparing its electrical safety standards. Federal OSHA has not incorporated NFPA 70E into the Code of Federal Regulations.
NFPA 70E describes how to protect electrical workers from three kinds of electrical hazards:
Electric shock and electrocution
Arc-flash (electrical fireball)
Arc-blast (electrical explosion at high energy levels)
4-Step Safety Strateg
NFPA 70E outlines a four-step approach to electrical safety:
TURN OFF THE POWER. Work de-energized, whenever possible. However, since this isn't always feasible, when working on or near exposed live conductors and parts, NFPA 70E requires the following:
LIVE WORK PERMIT. Have the customer sign an Energized Electrical Work Permit.
PLAN THE WORK. Have a written plan for performing the live work safely.
USE PERSONAL PROTECTIVE EQUIPMENT (PPE). This includes flame-resistant (FR) clothing, insulated tools, face shields, and flash suits.
Incident Energy
NFPA 70E requires that the employer shall document the incident energy exposure of the worker when it has been determined that the worker will be performing tasks within the flash protection boundary.  Incident energy is the amount of thermal energy impressed on a surface, a certain distance from the source, generated during an electrical arc event. Incident energy is expressed in calories per square centimeter (cal/cm2).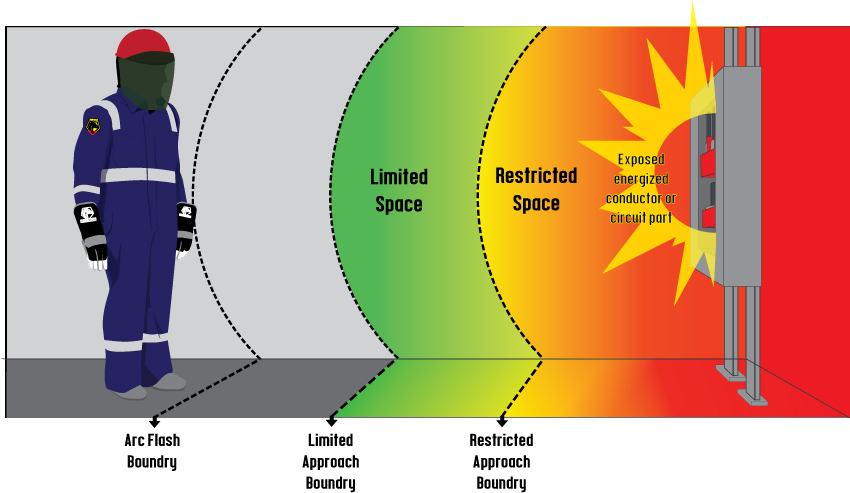 4 PPE Categories
NFPA 70E includes four PPE categories. Each category has a minimum arc rating for protective clothing:
| PPE Category | Rating | Protective Clothing | Minimum Incident Energy Level |
| --- | --- | --- | --- |
| 1 | ARC 1 | FR long sleeve shirtFR pantsFR coverallsHead protectionFoot protectionEye protectionArc flash rated gloves | 4 cal/cm2 |
| 2 | ARC 2 | T-shirtFR long sleeve shirtFR pantsFR coverallsFace shieldCotton underwearFoot protectionEye protectionArc flash rated glovesHearing protection | 8 cal/cm2 |
| 3 | ARC 3 | T-shirtFR long sleeve shirtFR pantsFR coverallsFlash hoodCotton underwearFoot protectionEye protectionArc flash rated glovesHearing protection | 25 cal/cm2 |
| 4 | ARC 4 | T-shirtFR long sleeve shirtFR pantsFR coverallsFlash hoodCotton underwearFoot protectionEye protectionArc flash rated glovesHearing protection | 40 cal/cm2 |
What type of electrical work is not covered under NFPA 70E?
NFPA 70E does not address safe work practices specific to installation, maintenance and operation of utility transmission and distribution systems. There are some facilities and installations under utility control in which application of NFPA 70E may be appropriate. Examples include office buildings, warehouses, garages and maintenance shops.
NFPA 70E-2021
The 2021 edition continues to focus on risk assessment and emphasize the need to follow the hierarchy of risk controls to eliminate and reduce the potential hazards.
Most notable changes to the 2021 edition include:
Article 110 General Requirements for Electrical Safety-Related Work Practices has been revised to incorporate the general requirements for electrical safety-related work programs, practices and procedures from other articles to emphasize their importance.
Reference to arc-resistant switchgear has been changed to arc-resistant equipment in Tables 130.5(C) and 130.7(C)(15)(a) to address the use of other types of arc-resistant equipment.
Modifications to Table 130.5(C) – it now lists tasks as either normal or abnormal as a risk assessment condition, and batteries have been added. Also, a new task has been added as YES for likelihood of an arc flash incident for any condition: "Operation of a CB or switch the first time after installation or completion of maintenance in the equipment."
Changes to PPE include the incorporation of ASTM D120 for voltage gloves and the requirement for outer layers of clothing. If an outer layer of clothing is worn it must be arc-rated and the inner layer must meet the calorie requirement of the job task.
Article 360 Safety-Related Requirements for Capacitors and Annex R Working with Capacitors have been added to addresses specific safety related requirements unique to capacitors.
Annex D Incident Energy and Arc Flash Boundary Calculation Methods has been revised to refer to IEEE-1584-2018 as a method of calculation.
Annex F Risk Assessment and Risk Control contains new material that provides guidance on how to select PPE using a battery risk assessment process when multiple hazards are present.
Annex I Job Briefing and Job Safety Planning Checklist contains comprehensive job-planning checklist to aid in pre-job assessments.